Submitted by

Chris

on Fri, 09/29/2017 - 09:46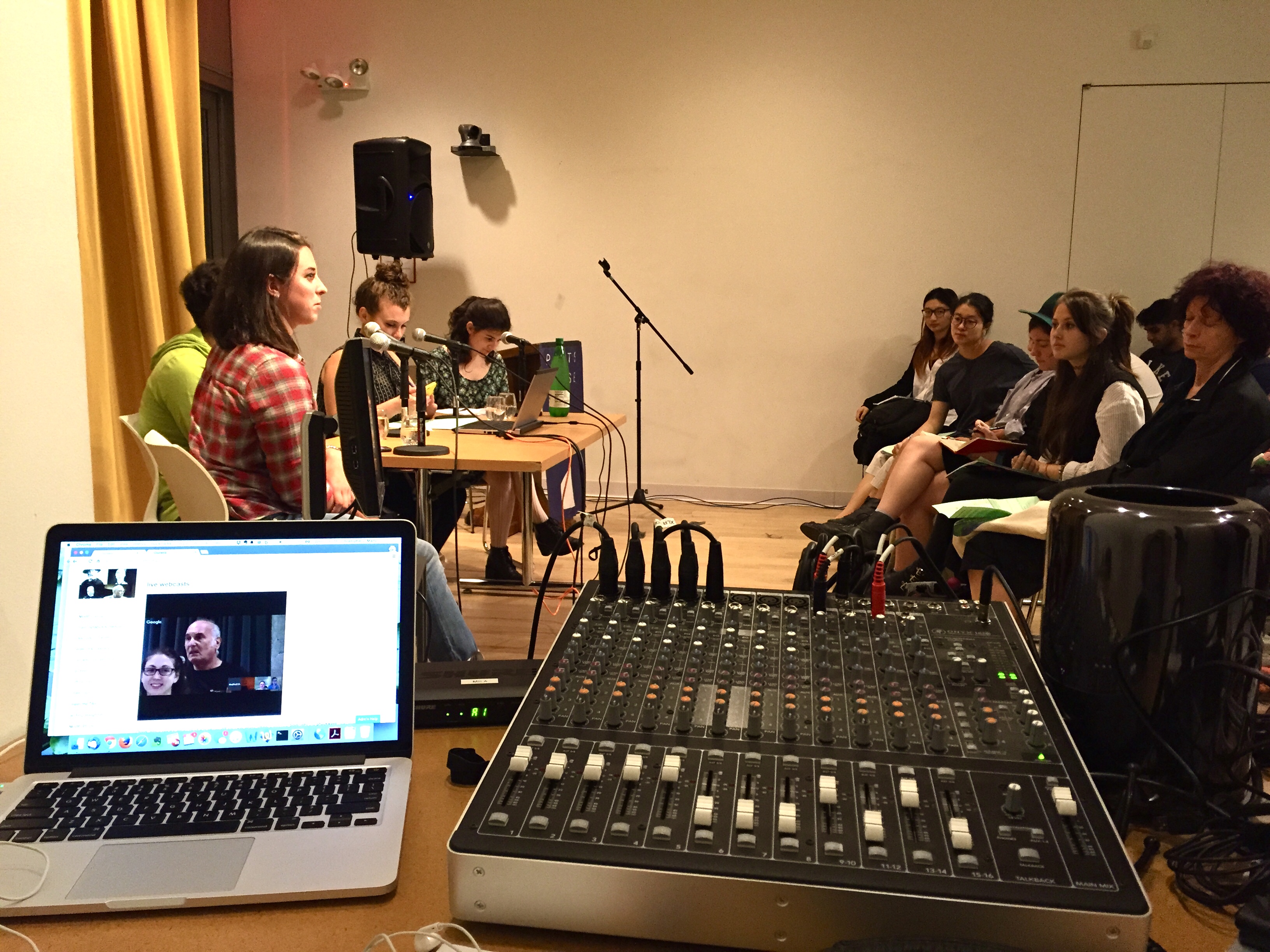 Modern and Contemporary Poetry, a free Coursera Massive Open Online Course (MOOC) taught by Al Filreis at the University of Pennsylvania, hosts weekly live webcasts from the Kelly Writers House in Philadelphia, PA. We decided to take the show on the road and host webcasts in San Francisco, New York City, Washington DC and London. Here's the gear we used which is optimized with weight, efficiency and travel in mind.
Gear Setup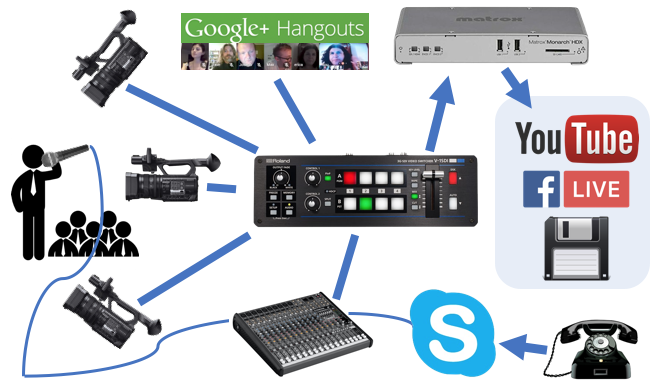 *Simplified for convenience in some places
Gear List
These are terrific, reasonably priced, pro video cameras. We take an HDMI feed from each camera directly into our Roland video switcher. [Amazon]
I saw one of these at a Streaming Media conference and loved it immediately. The Roland V-1HD is simple, easy to use and extraordinarily portable! It can take up to 4 HDMI inputs (there is an SDI model as well) and switching is easily accomplished using the soft-touch buttons or the T bar. It might not be packed with features but it's portability makes it a gem and a highly worthwhile tool. Essentially plug-n-play. [Amazon]
The Monarch HDX takes the mixed video feed from our Roland Video switcher and sends it directly YouTube Live while also recording a copy of the video to a SD card. Alternatively, it can be configured to stream to Facebook Live or a RTMP streaming server, if desired. In our experience, it has been reliable, easy to use and highly portable. [Amazon]
We use this 12 channel Mackie mixer for mixing our various audio sources which includes our panelists' microhphones, Google Hangout remote participants and phone calls. We take a main mix output from our board and send it either 1.) directly to the Roland video switcher or 2.) through one of our Sony video cameras into the Roland video switcher. It has 2 aux channels which we use to feed audio to our phone callers and our remote participants. We also like the Onyx board because it offers the option to connect to a computer for multitrack recording via its firewire connection. [Amazon]
Google Hangout & Skype Laptops
We use two laptops: One to host the Google Hangout and one to take live phone calls via Skype. To incorporate the Google Hangout video into our feed, we take an HDMI out from our Google Hangout laptop and into the Roland Video Switcher. We only need an audio feed from our Skype laptop, which we plug directly into our audio mixer.