Submitted by

Chris

on Wed, 06/28/2017 - 10:58

In order to record a Google Hangout, the easiest way is to use "Google Hangouts on Air." Adding the "On Air" feature to a Google Hangout is intended to make your meeting public so that anyone can tune in and watch it -- BUT, you can make it private, if you prefer, and still gain the benefit of a downloadable recording. The easiest way to do a Google Hangout On Air is through YouTube.
1. On YouTube.com, go to Live Streaming Events in Creator Studio (here's the direct link: https://www.youtube.com/my_live_events). If this is your first time doing a Google Hangout On Air, you will have to click "Enable Live Streaming" before Step 2.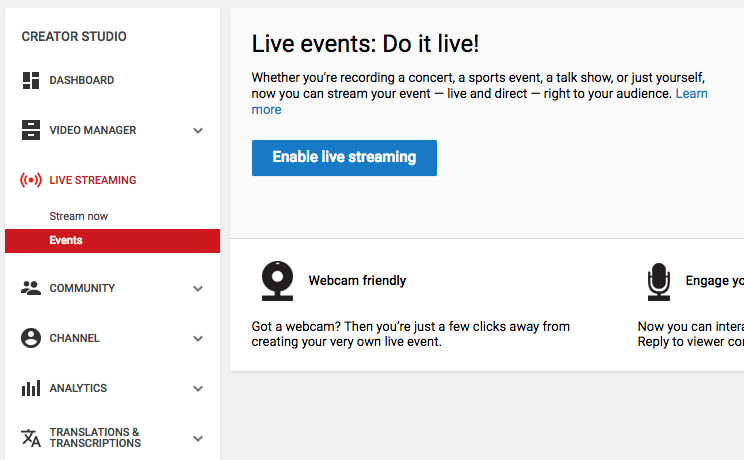 2. Click New live event.
3. If you want your Google Hangout On Air to be only viewable by you (and your guests), select "Private". Select Quick (using Google Hangouts On Air).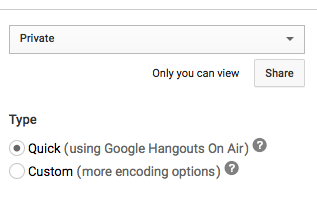 4. Give your live stream a title.
5. Click "Start Broadcast" and invite participants to the Hangout.

6. When done, click "Stop Broadcast"

7. You will then see this message:

8. You will see your recording in the "YouTube Video Manager" (Here's the direct link: https://www.youtube.com/my_videos). Shortly after your Google Hangout On Air ends and finishes "processing", you will be able download a copy of your Hangout. Click the down arrow next to the "Edit" link and select "Download MP4"